Healthy Living with Marina at Keppel Bay
In line with the upcoming World Health Day (April 7), we have prepared a list of health tips that you can try out with Marina at Keppel Bay to keep your body and mind happy!
You are what you eat
Eating healthy might seem intimidating for some of you but all you need to do is take baby steps when it comes to choosing healthier options in your diet!
For instance, opting for fish instead of processed meat for your main course! Fish a great source of high-quality protein and loaded with Omega-3 fatty acids and other nutrients. You can find a wide selection of seafood menu at Bayswater Kitchen and Sushi Jiro. From sashimi to grilled seafood platter, you'd be a seafood convert after you visit Marina at Keppel Bay!
Alternatively, order a side of salad for a more well-balanced meal if you can't give up on meat just yet! Salads help to add varies nutrients such as fibre and vitamins which are essential to us. Enjoy 30% off Prosciutto Melone and Eggplant Parmigiana when you dine at Ristorante Palermo from 3-10 April 2022. From freshly handmade pizzas to vegetarian pastas and gluten-free dessert, do check out their hearty Italian dishes!
Privé Keppel Bay's Japanese TiNDLE Curry Katsu
Privé Keppel Bay also boasts an extensive selection of salads and plant-based dishes. Their monthly specials usually feature TiNDLE, which is an environmentally friendly and healthy chicken alternative, made from plants! From 3-10 April 2022, order any vegan main course (excludes desserts, cakes and small bites) and enjoy a juice (u.p $8) at 50% off!
Photo Credit: The Privé Group – Keppel Bay
For those with a sweet tooth who love to end a meal with a treat, grab a cup of black coffee or sugar-free tea to go with your favourite dessert! Known for their antioxidant benefit, you can now have a slight ease of mind when indulging in your go-to sweet treat. We are in for the long haul when it comes to healthy living, so don't be afraid to treat yourself every now and then!
Get moving and sweat it out!
You can't leave exercise out of the healthy living equation! Join The Viva Group Studio for their Pilates classes to get professional guidance and kickstart your fitness journey.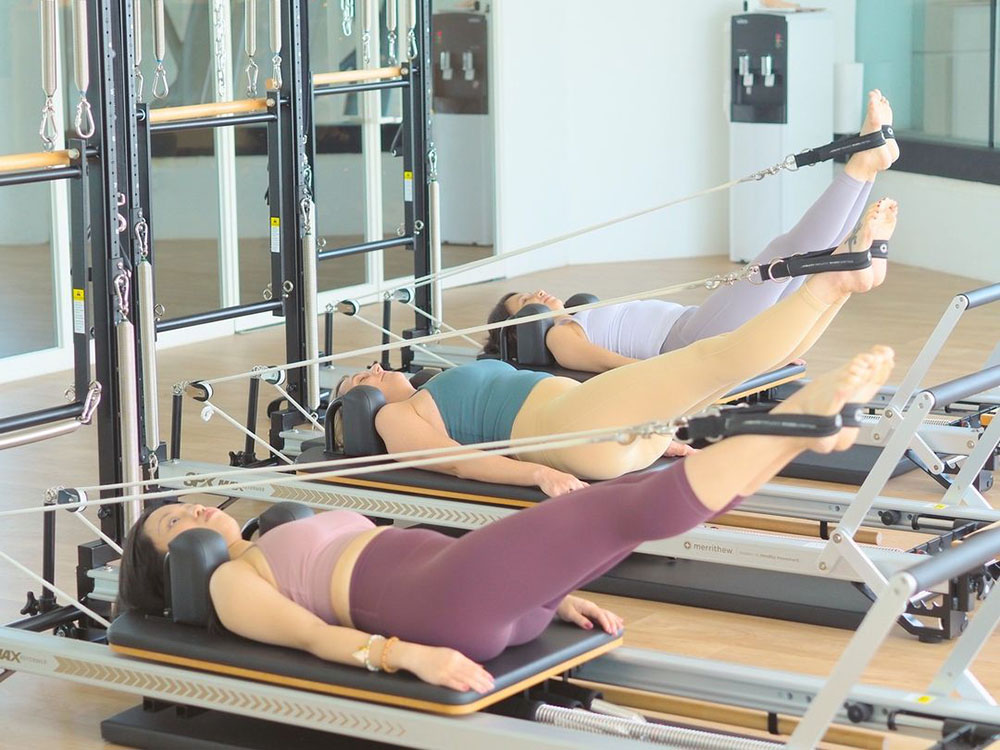 Photo Credit: The Viva Group
They also offer Prenatal Pilates to help women relax and improve mobility during their pregnancies!
Photo Credit: The Viva Group
As we stay indoors most of the time, it is essential that we take special opportunities to head out and get moving. Did you know? The Sun is the best source of vitamin D which helps to regulate the amount of calcium and phosphate in our body. That's why we have something special planned for all of you this April!
Soak up all the vitamin D you'd need with our Fitness by the Sea FREE Kickboxing session on 9 April 2022! Our FREE Kickboxing session is held from 10am to 10:45am at The Quay, which is surrounded by the serene sea and beautiful architecture. What's more? Participants also get to enjoy special discount* for cold-pressed juice, organic snacks, sportswear and more!
Click here to sign up for the session today!
Stay Up to Date
Marina at Keppel Bay values your safety above all else. While we are eager to get things back to normal, we will continually adjust our approach to bring the best to you while adhering to guidelines.
Keen to keep up with what is happening with Marina at Keppel Bay? Sign up for our newsletter and follow us on Facebook and Instagram to be the first to know about any exciting happenings around the area now!
Disclaimer: The information and other content provided in this article materials, are not intended and should not be construed as medical advice. Please consult your doctor or other qualified health professional with any questions you may have regarding your health or a medical condition.