(CLOSED) January 2022 Giveaway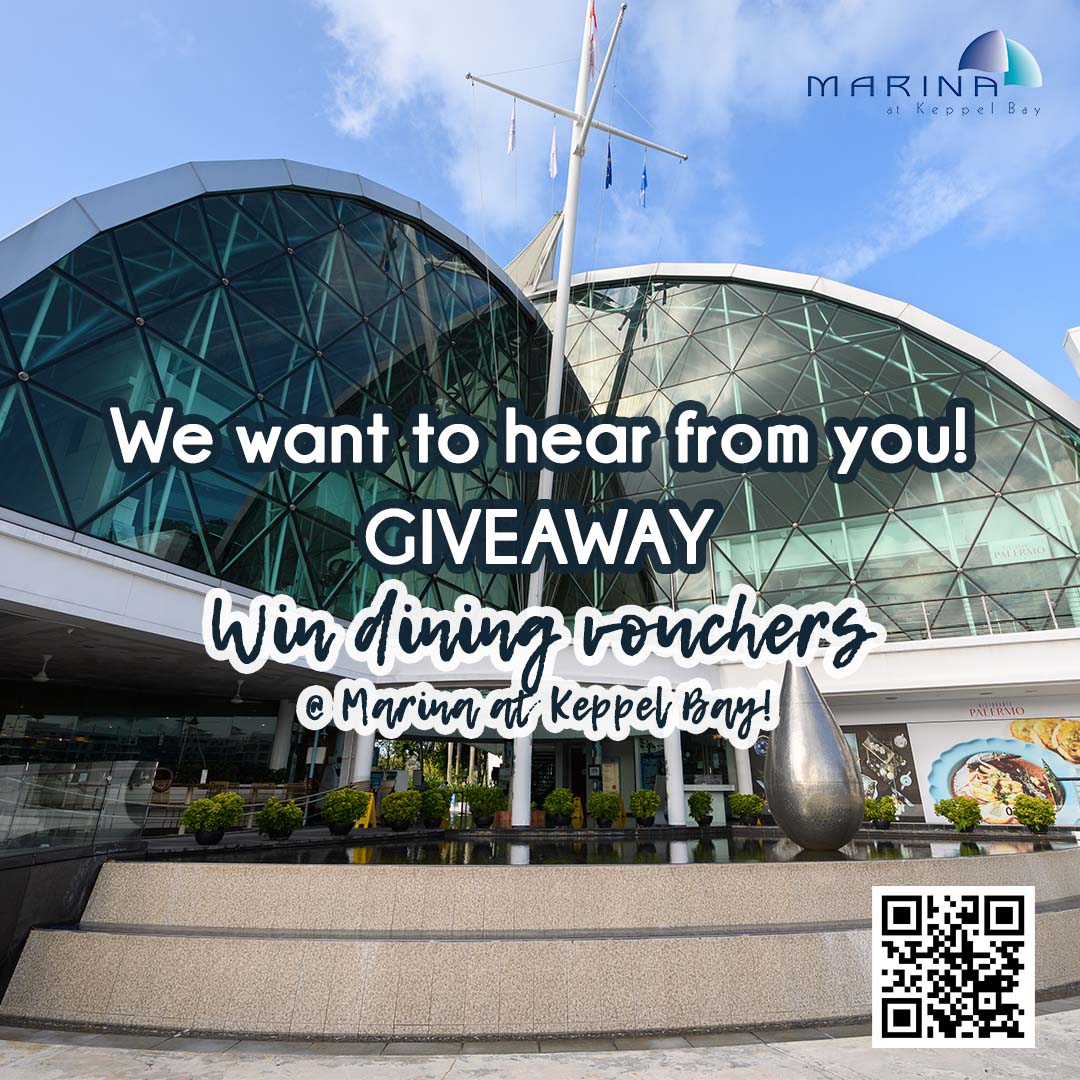 [GIVEAWAY] We want to hear from you! You'd also stand a chance to win $50 dining voucher at Marina at Keppel Bay!
1. Fill up Survey via the link in bio or at https://tinyurl.com/MKB-feedback
2. Leave a comment in our Instagram January Giveaway post to let us know you're participating!
Strictly 1 entry per Instagram user. Winners will be notified via Instagram DM.
T&C applies.
Contest starts from 24 January and ends on 31 March 2022, 11.59pm.
Keep a lookout for the post. Good luck!
By participating in this contest, you agree to be bound by its Terms & Conditions.
Terms and Conditions
This contest is open to all persons currently residing in Singapore with a permanent residential address, over 18 years of age, except employees of Keppel Group and all entities under Keppel Group, its advertising agencies, retail tenants of Keppel Bay Pte Ltd, their immediate families or anyone else connected with this promotion. No third-party entries, bulk entries or entries submitted by agents will be accepted.
Keppel Bay Pte Ltd ("KBPL") reserves the right to verify the eligibility of each participant and may require such information as it considers reasonably necessary for the purpose of verifying the eligibility of an entry. The prizes may be withheld until and unless KBPL is satisfied with the verification.
Keppel Bay Pte Ltd ("KBPL") reserves the right to decide the duration of the giveaway and the decision is final.
For avoidance of doubt, the eligibility of all entries would be subject to KBPL's decision. All matters relating to the Contest are final, conclusive and binding on all participants and no correspondence will be entertained.
Participant's details must be provided after they are selected as a winner. (i.e. the last four characters of their NRIC eg. Sxxxx888A, Full Name as per NRIC, E-mail Address and Mobile Number).
All winners will be selected via a randomizer.
KBPL's decision on the contest results is deemed as final and no correspondence shall be entertained.
If any prize is unclaimed or declined after one month from the date of our email notification to the winner, the prize shall be deemed as unclaimed or unaccepted. KBPL will not be responsible should any winner fail to redeem the prize within the specified date.
KBPL's decision on the contest results is deemed as final and no correspondence shall be entertained.
KBPL reserves the right to provide substitute prize(s) of similar value should the specified prize become(s) unavailable. Cash will not be offered, and the prizes are not transferable.
In the event of actual or suspected fraud or abuse, such as but not limited to plagiarism, and/or errors affecting the proper operation of this Contest, including the allocation of more prizes than are available, KBPL reserves the right to (a) end or suspend the Contest, (b) amend these terms and conditions, (c) declare void the notification of winner(s) and reselection of winner(s), or any combination of these resolution methods.
Data of each participant will be collected, stored and processed for the purposes of administering and assessing this Contest. By joining this contest, participants consent to and grant KBPL the right to use the contest submission (images/videos) for marketing, promotion and / or advertisement purposes, including print, audio-visual and social media, without restriction or limitation and for unlimited number of times.
KBPL reserves the right to suspend, cancel or amend the promotion and/or review and revise these terms and conditions at any time without giving prior notice. By continuing to take part in the contest subsequent to any revision of these terms and conditions, each participant shall be deemed to have agreed to any such new or amended terms.